Variants do exist, but according to Dr. Michael Yeardon & others, the variants are very similar. The globalists, however, use these scariants to put fear into the people, who become so traumatised that they offer little resistance to further controls.
Stew Peters Explosive Truth: There Is No Specific Test For These Variants, How Can People Have New Variant??
https://beforeitsnews.com/alternative/2021/11/stew-peters-explosive-truth-there-is-no-specific-test-for-these-variants-how-can-people-have-delta-video-3762586.html
The Omicron Scare
Dec 7
https://stateofthenation.co/?p=100400
The 'Omicron Scare' has neatly become the variant of hysteria further leading from a narrative built on a dystopian society to that of a quasi-Marxist utopian civilization.
Countries throughout the world; specifically, those with democratically elected governments, have what they needed to push through further on their agenda of retaining power and control under the guise of another round of fear with the omicron variant.
It is no surprise that the target of their actions is to leverage this latest variant scare to go after the remaining unvaccinated population.
Most reports coming in has seen the vaccinated being infected by the omicron variant which gives rise to mild symptoms.
Omicron Variant Shares Genetic Code With Common Cold, Researchers Say
According to a team of researchers based in Cambridge, Massachusetts, the Omicron variant of COVID-19 appears to share genetic code with the virus responsible for causing the common cold.
This, the researchers say, could explain why Omicron variant seems to spread easily with extremely mild symptoms.
The researchers are from Nference, a data analytics firm that originally found the genetic code and have now written a pre-print study that is currently awaiting peer review.
According to the New York Post, "The mutation could mean the virus transmits more easily, while only causing mild or asymptomatic disease," per the study.
OMICRON VARIANT:
*To get out ahead of the expected propaganda aimed at "anti-vaxxers," it cannot be stressed enough that Omicron has not yet been detected in an unvaccinated person.
*According to the president of Botswana [where Omicron was first discovered], all four patients who were identified as having Omicron were previously vaccinated for the earlier strains of the Fauci Flu.
*As many have been warning for months, introducing vaccines right in the middle of an alleged "pandemic" only makes things worse by fueling the spread of "super mutations," which is apparently now happening.
Just like Delta, Omicron is the "Poison Death Shot". Now they are saying that it is causing blood clots, heart attacks, etc.; but wait on – these were already happening as the adverse events of the "Poison Death Shots" – they think that we are dumb – well, some people are ignorant.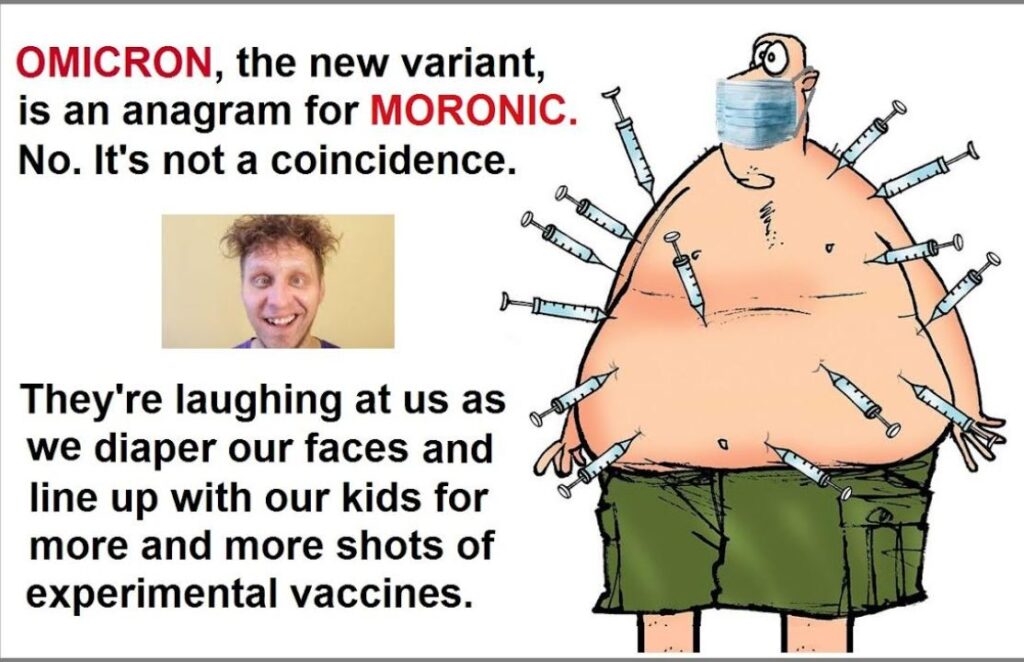 The New OMICRON Covid-19 Variant Will Be Blamed For the Upcoming Mass Vaccine Casualty Deaths
Nov 26
https://beforeitsnews.com/blogging-citizen-journalism/2021/11/round-two-begins-they-will-blame-the-new-omicron-variant-for-the-upcoming-mass-vaccine-casualty-deaths-2650751.html
When they manipulate the stock market right before the weekend you know that THEY are up to no good. This Pandemic will go on and on and on. There will be no stopping these 'mutating viruses' until the population has been reduced to manageable levels. It's happening, we have all been talking about it. The real actual flu season is upon us as we now are told that a new more contagious COVID-19 variant has been detected in South Africa. Here is an excerpt from the World Health Organization's web page. I discuss what this means in this video and then watch what Father Alexis Bugnolo lays out in the final twenty minutes. Hopefully no one watching has been vaccinated.
"The B.1.1.529 variant was first reported to WHO from South Africa on 24 November 2021. The epidemiological situation in South Africa has been characterized by three distinct peaks in reported cases, the latest of which was predominantly the Delta variant. In recent weeks, infections have increased steeply, coinciding with the detection of B.1.1.529 variant. The first known confirmed B.1.1.529 infection was from a specimen collected on 9 November 2021.
This variant has a large number of mutations, some of which are concerning. Preliminary evidence suggests an increased risk of reinfection with this variant, as compared to other VOCs. The number of cases of this variant appears to be increasing in almost all provinces in South Africa. Current SARS-CoV-2 PCR diagnostics continue to detect this variant."
OMICRON=BULLSHIT From Judy Byington
*A storm in a tea cup?!
OMICRON is actually an anagram of BULLSHIT. Pay close attention to the new variant OMICROM. OMI = ODIN (Omi is one of ODIN'S names. CROM is a command to an operating system, or server for a job that is to be executed at a specified time). Project ODIN is a Military Space Force Intelligence Agency Operation connected to the Starlink Satellites that controls all grids around the world. It can bypass and operate all Media/ Radio/ Internet Platforms including the Emergency Broadcast System.
South Africa: Omicron Pretty Mild So Far, Say South African Health Experts: Symptoms linked to the omicron coronavirus variant have been mild so far, according to a Covid-19 adviser to the South Africa government and the Pretoria doctor who first sounded the alarm.
South African doctor who discovered "Omicron variant" says there's nothing to worry about, only has very mild symptoms.
The South African Medical Association has debunked hysteria about the Omicron variant of Covid-19. Angelika Kutzi, chairman of the South African Medical Association, which was the first to raise the alarm about the new variant, reported interesting information and now says that the new variant, known as "Omicron", causes"unusual but mild symptoms."
"This disease is mild, with symptoms of muscle pain and fatigue during a day or two of poor health. At the moment, we have found that infected people do not lose either taste or smell. They may have a slight cough. There are no pronounced symptoms. Some of those infected are currently being treated at home," Dr. Kutzi said.
"Yes, it is transmitted, but at the moment, as practitioners, we don't know why there is such a fuss, as we are still studying it. We will find out about it only in two or three weeks, as there are several patients admitted, and these are young people aged 40 and younger, " she added.
Dr. Kutzi also said that about two dozen of her patients were tested for the Omicron variant, mostly healthy men who came just "feeling tired." Dr. Kutzi disagrees with other countries that ban flights from Africa, arguing that it is "premature because there is not enough information about how dangerous it is."
DELTA VARIANT:
*This Oct 21 post is now placed here.
For a long time now the New Zealand Governments scare tactics have focused on the "Delta Variant", which according to Dr. Yeadon is not much different from the original Covid-19. The fraudulent PCR tests have been ramped up & many more people have been scrambling to get the "Death Shot"! Now more people are testing positive, more people are ending up in hospital & the official narrative which is broadcast throughout the day is that these are Covid cases.
In reality, the Vaxxed are getting sick!
THE DELTA VARIANT IS REALLY JUST VACCINE INJURY AND DEATH
Oct 11
https://brandnewtube.com/watch/the-delta-variant-is-really-just-vaccine-injury-and-death_ijUxAgJ7JNvNh9I.html
The Delta Variant is fake, just more lies to put fear into the masses, the variants are weaker versions of a simple cold or flu, and just means the body needs to detox!
Joe Imbriano warned us in 2018 – 60GHz blocks Oxygen uptake=fake virus=kill grid= forced vaccinations.
https://www.bitchute.com/video/4FLgSSO7e6ZX/